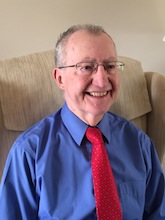 William and Linda Schoenl's book Jung's Evolving Views of Nazi Germany (Chiron, 2016) describes for the first time Jung's views of Nazi Germany during the whole period from the Nazi takeover in 1933 until the end of World War II. It brings together their research in archives and primary sources over the past ten years. It demonstrates that after Nazi Germany's first year, Jung became increasingly warier of the Nazis. William Schoenl is professor emeritus of Modern European history at Michigan State University. His books include C. G. Jung: His Friendships with Mary Mellon and J. B. Priestley (Chiron, 1998) and Major Issues in the Life and Work of C. G. Jung (University Press of America, 1996).
Get 10% discount on all lectures at The JungPlatform using our discount code: DRDAVE
Click here for the content.       Click here for video preview of interview!
David Van Nuys, PhD
Creator/Host of Shrink Rap Radio