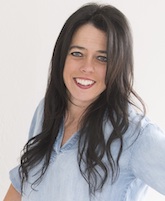 Kristin Smedley is an award-winning non-profit leader, TEDx speaker, and author – ­ but she never planned on any of that. Kristin did plan to be a teacher and impact thousands of children, but then a rare disease happened. Two of her three children were diagnosed as blind. She had to learn the tools of blindness and build a team of experts that would help her navigate this path that she had not been trained for. Kristin's two blind sons are now thriving as gifted high school and college students, elected student council officials, baseball championship winners, International Braille competition finalists, and social butterflies.
In 2011 Kristin founded the Curing Retinal Blindness Foundation, the only patient organization in the world for her sons' blindness, CRB1 LCA/RP. Kristin has led the CRBF to raise over $1 Million, introduced the first ever legislation in the United States in Braille, and has moved rare eye diseases from rarely talked about to being discussed in key circles worldwide. Kristin was one of only twelve people in the world to testify at the FDA on behalf of the first ever gene therapy to treat blindness.
In February 2019 Kristin published her first book, Thriving Blind: Stories of Success Without Sight It has already achieved #1 New Release on Amazon.
David Van Nuys, PhD
Creator/Host of Shrink Rap Radio