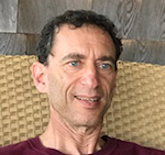 Ricky Greenwald, PsyD, is the founder and executive director
of the Trauma Institute & Child Trauma Institute, affiliate professor at
the SUNY University at Buffalo School of Social Work, and a fellow of
the American Psychological Association. Dr. Greenwald is the author of
numerous professional articles as well as several books, including EMDR
in Child & Adolescent Psychotherapy (1999), Trauma and Juvenile
Delinquency (editor; 2002), Child Trauma Handbook (2005), EMDR Within a
Phase Model of Trauma-Informed Treatment (2007), Treating Problem
Behaviors (2009), and Progressive Counting (2013). His work has been
translated into over a dozen languages. Dr. Greenwald is a leading
expert in EMDR, the developer of PC, and a pioneer in intensive
trauma-focused psychotherapy.
David Van Nuys, PhD
Creator/Host of Shrink Rap Radio