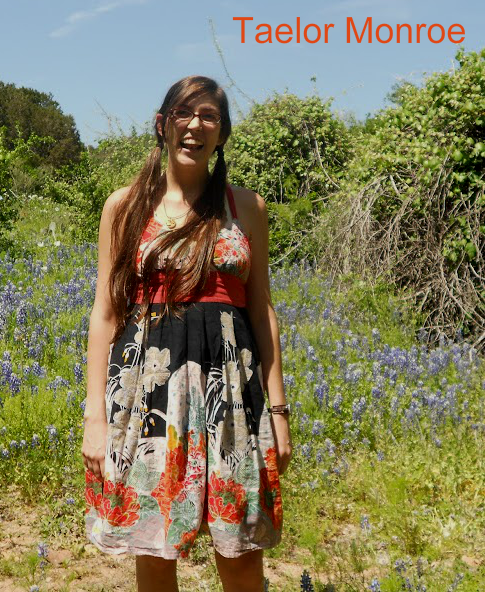 "A Hardy and Drought Tolerant People." Interview with Taelor Monroe, Austin Permaculture Guild (TX) by Willi Paul, Planetshifter.com Magazine
"Permaculture is a set of design principles for anyone to use. These design principles are based on how nature operates. Nature has a highly efficient and flexible way of getting things done. By imitating nature's approach and applying it to the design of human stuff (homes, buildings, products, organizations, landscapes, and so on), we can make things much better, AND quit wrecking the planet that we depend on for life. And we don't have to sacrifice the economy to do it! Though this may sound like some utopian fantasy, too good to be true, it's actually very realistic and practical. And you can participate!" - Austin Permaculture Guild Web Site
* * * * * * *
Interview with Taelor by Willi
What is localization in Austin? How do you teach this?
Austin is a very big city of 1 million+ people and I'm not sure what percentage of them are focused on true localization but it does feel to me like it is higher than in most cities. This mostly is centered around food. There is a pretty large local food movement centered around farmer's markets and local farmers in general. This also includes CSAs and restaurants buying from local suppliers. The local movement here also focuses around locally owned businesses and room for the little guy. Because Austin is growing so quickly some of this seems to be falling away but is still mostly intact. In teaching I try to emphasize all of these points as well as being generally self-sufficient. This involves having a craft and doing as well as lots and lots of DIY.
Are your members combining commercial landscaping and permaculture principles? Examples?
Some overlap with commercial landscaping might be some design work with elements such as native plants and maybe drip irrigation. This work would relate to the permablitzes most likely. We use classic berm and swale systems with plants you would find when design a perennial food forest garden tailored for Central Texas.
What are the key lessons learned from your Austin EcoSchool Permablitz?
Key lessons learned are: always make a map of the garden you build. Make sure the place you are planting the garden wants to take care of it.
How many kids and teens are participating in the Guild's work? Challenges?
Right now there are barely any kids and teens directly involved in the guild. I am currently working on projects with Eco Rise where I am helping teens to create a permaculture design for parts of their school property. I am going there for a meeting during their class tomorrow to meet the seniors in the class and talk about the design. This will be the first time I have directly been helping students outside of just building gardens for them.
At our Kealing Middle School Permablitz there were a few students there but we just directed them at tasks that needed to be done for helping to build the garden. It was not really anything of note particularly. Some were very interested in what we were doing and some weren't.
How are you including the Latino community there? Any examples?
Most of our projects have involved lower income schools on the East Side. Our work is not race or gender specific. We like to include anyone who cares to learn and try to evenly distribute our efforts in all parts of the city. I think we have done an OK job at that but could try to involve specific classes of people better. If you have any suggestions for this I would be open to hearing them.
The school where I am helping tomorrow is on the East side (side of town with more minorities and lower income) and the class is the ESL class that I am coaching. I haven't actually met or helped them yet so I can't provide any feedback right now. :P
What does climate change look like in Central Texas? Do you folks have strategies to combat it?
This is kind of a hard question. As local permies we focus on every part of the ecosystem and just try to plant as many plants as possible while trying to inform as many people as possible how to make the least amount of impact as they can. Regenerative design, closed looped systems. So we do try to directly combat a lot of the causes of climate change but this is definitely not a focus. Most of the issues surrounding climate change are basically directly dissolved by everyone on the planet practicing permaculture, which is always our ultimate goal…
Some effects from climate change we're seeing are varied seasons. We are already somewhat used to this in Texas though so this might be an easier place to adapt to it. We have very varied rain seasons-a lot of rain all at once for random times throughout the year and then no rain the rest of the time. We focus on hardy and drought tolerant plants to combat this.
One sticky point is the role of spirituality in permaculture? Any stories about this aspect?
I have many friends who are teachers, practitioners, and general promoters of permaculture who are very spiritual, myself included. I think that permaculture is whatever you make it. It is very adaptive in nature and its core values allow it to be whatever you want to use it for a lot of the time. I think it's perfectly acceptable and important to incorporate certain spiritual aspects to permaculture without dogmatizing anyone or pushing anything on anyone. I don't think it's always necessary to do so though.
You should check out the Church of Awesome/Creation Flame. It is a local church and permaculture community. They hold meditation services once a week.
If you have no land, can you still do permaculture?
Of course! You can practice permaculture in every single part of your life constantly. You only need to follow the ethics and principles of course. Simple as that. I could write pages and pages about this but unfortunately I do not have the time! If you're looking for something specific, alternative bed types such as wicking beds and container gardening are a good place to start. And of course leaving the least amount of impact possible concerning consumption as well as trying to rejuvenate the environment around you in any way you can. This leaves a lot of room to do a lot of things! (I have never owned my own land or property FYI)
From your web site: "By imitating nature's approach and applying it to the design of human stuff (homes, buildings, products, organizations, landscapes, and so on), we can make things much better…." Please share some examples from your classes?
The guild is a collection of multiple classes taught by multiple people. This particular quote is from Dani Slabaugh and that page is posted for her. This principle is inherent in permaculture design. One example is mimicking patterns in nature. For instance, when planting a garden, you can use the 7 layers of a food forest to plan what plants to put there. Or you can plant in diamonds or circles instead of rows. It is more efficient that way. There are no straight lines found in nature. Taking a Permaculture Design Course will help you answer a lot of these questions. I would also suggest reading Gaia's Garden by Toby Hemenway and Permaculture: A Designer's Manual by Bill Mollison.
How much does fear drive your members and the vision there?
I honestly have no idea how much fear drives our members. I sure hope there is no fear involved with what anyone is doing. I understand the homesteading idea of bunkering down in case the government collapses. That is not our general driving force though. Permaculture tries not to focus on the problems but on the solutions. Therefore it is in no way fear driven, ever. If it is, one would be doing it wrong. We are all very informed and active people and understand the world around us, including its woes and terror. But, we make those things right by being so active in our community and building and bringing that community together through sustainable education and design.
* * * * * * *
Bio - Taelor Monroe handles publicity and admin for the Austin Permaculture Guild. Her home base is in San Marcos, TX where she started a Permaculture centered intentional community titled Sacred Roots. She organizes and does the promotion for Permaculture focused workshops, teach-ins, and workdays in the San Marcos and Austin area. She has studied Permaculture under Kirby Fry and Dick Pierce. Her top most goal is to inspire others through Permaculture to fully flower into the synergistic group energy of our Mother Earth.
Contact Info -
Taelor Monroe
Admin and Publicity Hub
Austin Permaculture Guild
214.448.6428
monroe.taelor at gmail.com