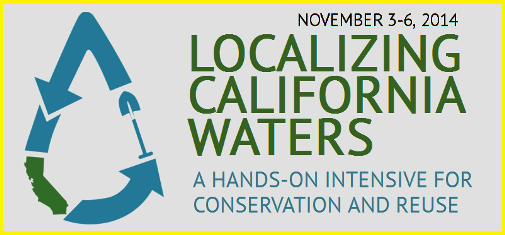 "Blackwater Rising" – Interview with Regina Hirsch: Organizer: Localizing California Waters Conference. 11/3 – 06/2014, Yosemite. By Willi Paul, Planetshifter.com Media
Localizing California Waters is a unique conference focusing on Integrated Water Reuse and LID techniques: Stormwater, Rainwater, Greywater, Blackwater as well as California Water Reuse Policy and Watershed Management. Half day seminars covering design, management, and permitting will be coupled with tours of systems under construction. Tours will focus on inspection and hands-on construction participation.
* * * * * * *
Interview with Regina by Willi
Who owns our water?
Besides how much water there is available, this is the question of the year for California. Our water is a common good resource that is finite. Since there is less than 1% of all water on the planet is available as freshwater, and much of that is polluted or unreachable, it is small resource that must be allocated fairly. In California, the state has just had a huge overhaul with three groundwater bills that will steer the public to regulating groundwater supplies for the first time in the history of the state. Who owns surface water, is still a complicated scenario in this state, which still has a 'first come, first served' senior water right allocation system. This is contradictory to a finite critical common resource, but very much in accordance with private property rights that are prevalent in the state.
Please define a watershed from the POV of a civil engineer and a water rights activist!
A watershed to a civil engineer is a calculation of dynamic forces; a spatial unit of cumulative measures following rivers systems to a common basin. An engineer is looks at a watershed in terms of flow, hydraulics, pollutant loads inputs, land use cover and flooding potentials.
A water rights activist would define a watershed as a planning unit, a geographical area in which stakeholders who inputs affect downstream basins. Either way, a watershed is a map of geographical inputs which during storm events, flow into a common basin, such as San Francisco Bay. All water flows downhill, and therefore thinking like a watershed promotes the idea that all upstream land uses affect the downstream business and ecology downstream.
Are you using permaculture principles in your work at the Sierra Watershed Progressive?
Always. Our favorite is looking to re-frame the problems of the site into solutions. In addition, we also always look to grow our projects from the ground up, starting with soils, and usually looping back into soils. Growing soils has given us a myriad of benefits and resources which interplay into our other design criteria, heat island cooling, drought tolerance, disease resistance, decreased energy consumption, habitat and species diversity, groundwater recharge, and food foresting (for animals and humans). Trees and wastewater have been my favorite of late to get the soil party started, and build on it from there. Lastly, we look to rules of proximity to aid in relationships with local regulators, businesses and neighbors to create the best path for implementation and long term buy in and education of a project.
What's hot at the California Water Reuse Policy Council?
The first statewide : conference on site water and reuse November 3-6th, 2014. This will include input on green guidance documents for onsite water and wastewater. This conference is a unique hands-on build workshop with agency regulators, advocates, designers, residents and students and more, in an incredible setting near Yosemite. Half day seminars will be coupled with half-day tours and builds to get the most of in depth training. Sprinkled in the mix is Brothers Comatose, a fantastic band from the bay area, and various networking and social gatherings.
Tell us about your new life in the Sierras? Pros and Cons?
Pros: Best pro, the people. No surprise, mountain people are tough and typically more connected to their environment. Other pros: No people, no traffic, no people in your granite swimming holes. There is fantastic fall color, great kayaking near beaver ponds, high plant and raptor diversity in my backyard.
Cons: A bit more driving to good surfing spots, and continual forest fires, such as the Rim Fire 2014.
How is Mountain Sage Landscapes working to lessen the local impacts from the state-wide drought?
Most our larger projects include 30-50% reductions in potable water use onsite. We use every tool from the tool kit possible, depending on the site and users. Rainwater, mechanical water, plant typing, blackwater repurposing, irrigation audits, greywater and stormwater infiltration.
How do you sell greywater solutions to a residential client?
I really don't sell it, as greywater is such a user intense solution. I let greywater come about from an analysis of need and site conditions. Greywater needs to have the right plant pallet, and homeowner or user to have it work well. If the user has a constant stream of wastewater, and the right plant pallet or site, I work out their water budget and let it sell itself. In a drought, sometimes the most reliable source of water in a Mediterranean climate is greywater.
The most fascinating thing about greywater is that done properly, people may be able to shunt some of their wastewater toxins (pharmaceuticals, hormones, etc.) to a biological soil system that can actually break it down instead of sending it deep into our groundwater or to our surface waters, while provided crucial nutrients and water to plants based systems that can regenerate and be useful.
Don't farmers own the water rights to their land?
Some do, some don't. First, groundwater rights are part of the land ownership. As for surface water, some land is dry farmed and has no water rights. In some instances water rights are appurtenant to the land, but in other instances the rights may have been severed and transferred off the land.
What is blackwater repurposing?
Reusing the effluent from toilets and kitchen sinks once again, typically in a subsurface drip line dispersal setting. You can also reuse it to other beneficial uses if you abide by Title 22 state standards, as well as recharge groundwater with intention to drink it once again (direct potable). This is usually a more cost and energy intensive solution due to water quality standards and monitoring to protect public health. Many advancements are being made in monitoring that may make these methods more efficient, safe and affordable in the near future.
* * * * * * *
Regina Hirsch - Bio
Regina Hirsch is dedicated to bringing appropriate best management solutions to the public by working on the ground in their homes and in public as well as commercial demonstration areas. After working on watershed water quality work at the Central Coast Regional Water Quality Board and the Morro Bay National Estuary Program as Scientific Coordinator, she moved to the Sierras for a different approach to reaching people. She opened Mountain Sage Nursery in 2003, and quickly created a community center in her family (1867 farm house) integrating focused educational programs, high caliber live music, a farmers market, hands-on appropriate landscaping and water integration, all within a nursery café that roots the community together.
Regina also founded Sierra Watershed Progressive, the watershed-scale arm of Mountain Sage Landscapes which focuses on onsite water best management practices aimed at rehydrating watersheds. Since 2010, Sierra Watershed Progressive has helped design and install projects restoring over 514 acres of habitat and aiming to increase watershed hydrologic recharge functionality through water conservation and reuse. These projects include over 1,327,300 gallons of rainwater (tanks), 2,170,518 gallons of stormwater, 21,560 mechanical water and 4,948,725 gallons of greywater which are reused each year. Recent watershed based projects include projects for California Conservation Corp, San Luis Obispo County, California Polytechnic State University, Mono Lake Committee, and Evergreen Lodge. In addition, Regina is a executive board member of various organizations, such as The Telele Foundation, Clavey Coalition, and the California Water Reuse Policy Council.
Knowing what people do in their homes and backyards is what can make a difference, Regina Hirsch's goal is to spread the word on good and appropriate decision making when it comes to water, energy, plants, soils and most of all, community.
Connections:
Regina Hirsch
Regina at sierrawatershedprogressive.com
Sierra Watershed Progressive
Groveland, CA
209-206-2234 - cell
Willi Paul
willipaul1 at gmail.com
New Mythologist & Transition Entrepreneur
@planetshifter @openmythsource @PermacultureXch