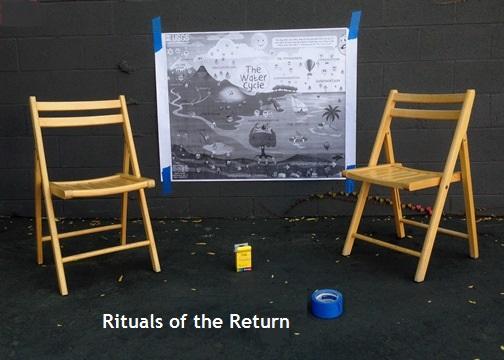 Rituals of the Return (via Transition Movement)
by Willi Paul, CommunityAlchemy.com
Are your closets, basements, attics, trunks, offices and garages crammed full of stuff you longer want? Your community can benefit from those clothes and other items. Take a cue from the localization principle in the Transition Movement and create a new giving ritual that gives back to you and others and bolsters meta/physical space in your life.
Rituals of the Return are active caring rituals that build community while feeding, protecting and reducing the amount of trash in the land-fill.
We have options:
+ Every end of the month, select items that you no longer use and take them to the Sharing Expo or donate them
+ Volunteer at local food bank or shelter
+ Enjoy the planting and harvest cycle at your community garden
+ Invite your neighbors over for a pot luck and talk trust and security
Why a new ritual? What do we know about such things? Because this work can be supported within a group of dedicated people. Call this a new individual – community practice that acknowledges love and caring first for others that calls for a non-religious, spiritual sweat equity for everybody on Earth.

Ultimately, I am calling for a more hopeful footprint in service to our communities and an integration with Nature as care givers and stewards of the Planet.
New rituals are the glue.
* * * * * * *
On Rituals from Planetshifter.com Magazine
5 New Nature-based Rituals for the Permaculture Transition. Vision ...
"Nature is not a Ritual" – Online Roundtable Topic by Willi Paul