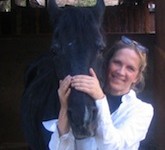 Monika Wikman, Ph.D. was my guest on episodes #614 – Jungian Perspectives on Psychedelic Consciousness, #372 – Exploring Holotropic Breathwork, #344 – Archetypal Phenomena Surrounding Death, #286 on Jungian Active Imagination and #235 – Using Alchemical Archetypes in Jungian Analysis. She is a Jungian Analyst and author of Pregnant Darkness: Alchemy and the Rebirth of Consciousness (2005) and a chapter entitled Sophia's Dreaming Body: Night Sky as Alchemical Mirror in the book The Dream and its Amplification (2013), along with various articles in Jungian psychology journals. Monika obtained her BA from UC San Diego and her doctorate from the California School of Professional Psychology in San Diego, where her research took her deep into the study of dreams of people with terminal cancer. After teaching graduate students at California State University, Los Angeles, she graduated as a diplomat from the Jung-Von Franz Center for Depth Psychology in Zurich. She lectures and runs retreats locally and internationally on Jungian depth psychology, dreams, myth, and alchemy. Along with her partner, Tom Elsner she hosts a non-profit project under Earthways.com, The Center for Alchemical Studies.
Two resources mentioned by Dr. Wikman in the interview:
1. Film on David Bohm
2.  Book by Nathan Schwartz Salant
Narcissism and Character Structure, Inner City Books, 1982.
The Psychic and Somatic Unconscious pp.114 to 133