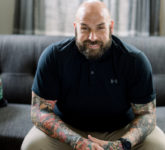 Chaz Franke, MSW, LCSW has a Bachelor of Arts degree in Psychology from McKendree University, and a Master of Social Work degree from Saint Louis University (SLU). Chaz has been a practicing LCSW since 2009.
Chaz is the owner of Light Source, a private practice in Belleville, Illinois.
Chaz has been practicing therapy full time since 2007.  Since the beginning of his career as a therapist, Chaz has worked with trauma and its long reaching effects. This work has included extensive work with all ages and all walks of life. Chaz specializes in psychodynamics, self compassion, and integrating Eastern thought and philosophy into the therapeutic process .Chaz has participated in training with important figures in the field of therapy and psychology such as Dr. Ira Chasnoff,  and Dr. Bruce Perry. Chaz has presented on topics including, but not limited to Trauma, Wisdom and Self Compassion, Mindfulness,  Self Care, Transference and countertransference, and Early Intervention and Listening skills. Chaz is also currently employed as a faculty member in the Masters in Social Work program at Saint Louis University.
Sign up for 10% off of Shrink Rap Radio CE credits at the Zur Institute
Click here content
David Van Nuys, PhD
Host: Shrink Rap Radio