Depth Psychology is often associated with "soul." Many great thinkers in the field have shared some important thoughts on the topic, and perhaps none more so than psychologist and author, Thomas Moore, whose best-selling book, Care of the Soul, is one of the most recognized and appreciated works on the topic. Thomas Moore is speaking at the upcoming Climates of Change conference in celebration of Pacifica's 40th anniversary in April 2016.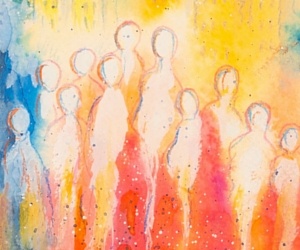 When I sat down recently with Thomas to discuss the topic of soul and spirituality, my first request was that he elaborate on the difference between spirit and soul. Moore's understanding of the topic is rooted firmly in the past, going back to some of the earliest teachers of soul. While he explained his perception of the difference between spirit and soul in some detail, what struck me is that soul thrives on the "holy" and that there is a "non-human" dimension to it.
 Most of the work Tom does is rooted in the spiritual traditions or in the depth psychology of both C. G. Jung and James Hillman. Both of these fields generally accept that there's more going on within us and in the world around us that we can know, understand, or control. As an example, Tom points out that he did not "design" the life he has led, but rather has "discovered" it as he went along, trusting and having faith in life itself, even when he had no idea what was going to happen next. That for him is "not human," because it is more than any human being can possibly understand.
While you may call one's unfolding "destiny," or "fate," the language or metaphor or poetic language we engage to express the Mysterious is primarily about our feeling of its value and our great reverence toward it is what Thomas calls the "holy." This describes Moore's own sense of reverence for the Mysterious which has shaped his life.
In his most recent book, A Religion of One's Own, Thomas shares some ways to tap back into a sense of spirituality. When the topic arose, I asked Thomas his opinion about the role of formal religion, which seems to be waning in our modern world.
Tom surmises that existing institutions, including religions, need to be re-imagined to suit our times. His definition of religion is a "creative and concrete response to the Mysteries." Religion is not just an idea or belief, he insists, nor is it about perfecting ourselves. It's about our relationship to the Mysterious "other."
Moore cites Henry David Thoreau and Ralph Waldo Emerson, nineteenth-century authors, poets and philosophers whose grasp of religion was, in the sense that Moore describes it, a "personal experience of the holy." They designed their lives to be more contemplative, Moore suggests, in order to be in relationship to nature and to the mysterious things in life. Thomas also insists secular literature is holy, confirming that
he gets religious and spiritual guidance there. Traditional religions have changed in contemporary culture and are now "losing favor" because we are moving into a new world, he says.
Upon hearing this, I think of the alchemical adage that the the "old king" must die in order for alchemical transmutation to begin and so something new can take its place. We are seeing dynamic change in the world, and so much is in decline— not just religion, but also in the natural world and in social systems around the globe. Allowing ... (Click here to read the full post on PacificaPost.com)