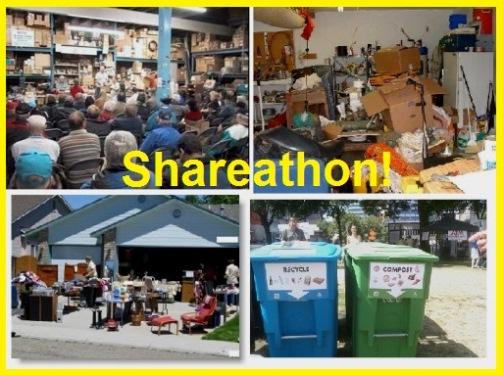 "2015 Woman's High School Shareathon Finals" (Portland) – A "Community Sharing Vision" by Willi Paul, Planetshifter.com Media
"The sharing transformation shows that it's possible to govern ourselves, build a green economy that serves everyone, and create meaningful lives together. It also shows that we can solve the world's biggest challenges - like poverty and global warming - by unleashing the power of collaboration. At the core of the sharing transformation is timeless wisdom updated for today – that it's only through sharing, cooperation, and contribution to the common good that it's possible to create lives and a world worth having."
* * * * * * *
SHAREATHON GOALS:
+ Redistribute household articles to those to need them
+ Clean-up homes
+ Teach sharing values
+ Promote neighbor to neighbor support
+ Reduce chance of fire
+ Improve property value
+ Honor and respect other folks live style and needs
+ Generational understanding - Senior and HS women relationships
SPECIFICATION:
+ Each HS in Portland, OR qualifies a four woman "share team"
+ 30 Day Contest Period - every September
+ Door Knocker as Invite to Participate (no email blasts)
+ Potential new custom – "Community Clean-up Month"
Residential Areas (need one or more to qualify) -
+ Kitchen
+ Living room / Bedroom
+ Basement
+ Garage
+ Yard(s)
+ Storage Unit (if apartment)
After the team works sorts and packs, owners clean and re-set belongings that are kept.
Re-use Options:
+ Owner keeps some items
+ Sell on-site
+ Dump run by local hauler
+ Sell online
+ Auction
+ Donate to Re-use shop
HOW TO WIN THE SHAREATHON:
+ Combined score of total spaces cleared
+ Number of neighbors contacted
+ Funds donated by local sale, internet and auction
+ # pounds sent to re-use / re-cycle station
+ Feedback from Owners
* * * * * * *
This is a Transition Movement idea that started as a creative story idea but then morphed into a potential "real world" specification. We need to invent the future now if we are to live in it.
Let's dream, and act, locally.
We need to design systems that fit out values and changing resources in the Chaos Age.
* * * * * * *
Additional reading on sharing from Planetshifter.com Media -
"Spiritual Resilience"- - Interview with Rev. Julia Bystrova, Heart & Soul Group, "Transition Sebastopol"
"The Sharing Center – A Transition Incubator for Small Towns and their Rural Neighbors"- - Vision
Interview with Transition North Brooklyn (TNBK) Organizer Charlotte E Binns