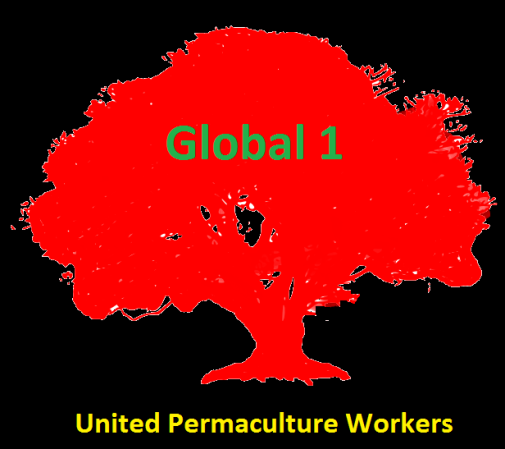 "United Permaculture Workers" - Vision for a Global Permaculture Trade Union (PTU) by Willi Paul, Planetshifter.com Design
Working Paper 1.0
What is a Labor Union?
A labor union is an organization of workers who have come together to achieve common goals such as protecting the integrity of its trade, improving safety standards, achieving higher pay and benefits such as health care and retirement, increasing the number of employees an employer assigns to complete the work, and better working conditions. The trade union, through its leadership, bargains with the employer on behalf of union members (rank and file members) and negotiates labour contracts (collective bargaining) with employers.
* * * * * * *
Permaculture Trade Union (PTU)
First, any labor-focused Permaculture Trade Union must not be confused with a "permaculture guild", whose focus is to "… support a local community of designers and those interested in permaculture by producing educational and social events, enabling permaculture projects and providing opportunities to exchange information related to permaculture design.
-- The San Francisco Permaculture Guild
Second, a PTU should be charged with the protection and counsel of any undocumented laborer in the harvesting and processing of permaculture crops.
Third, the PTU can must contribute and integrate with other social democracy movements and organizations like the United Farm Workers, the Sierra Club and the Transition Movement.
Finally, what are the work roles or trades that could be represented by the PTU? Investors, land owners, designers, material suppliers, labor, PDC school instructors and students come to mind.
Some advantages of a PTU
+ In addition to the critical collective bargaining mandate, the Union can actively educate and support the global values of permaculture including care for the people and care for the earth.
+ Permaculture has a huge marketing / outreach problem and the Union can help the fledgling vision out of the backyard and into the Commons!
+ The PTU can and must contribute to the ongoing standardizations of land design and harvesting tools and techniques.